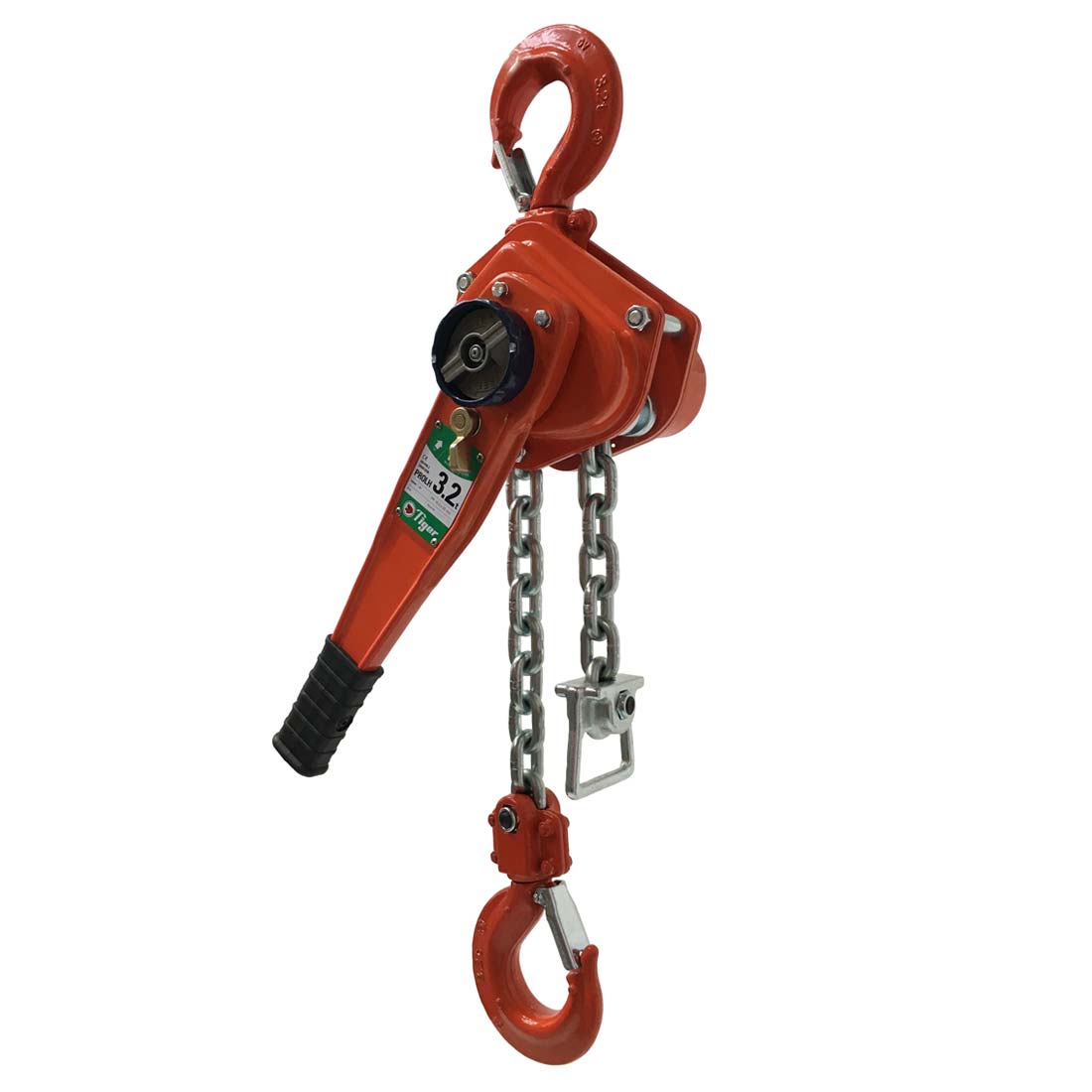 Premium Lever Hoist PROLH with Overload Protection
PROLH lever hoists incorporate many of the advanced safety features that Tiger has developed including one piece construction pinion gears and our patented Quad Cam Pawl System.
Like the SS19 range, this model also includes our unique rotational inertia driven torsion switch brake and freewheeling system. This brake system was designed by our research and design team to counter known failure modes in commonly used and copied longitudinal "push-pull" mechanisms or traditional style "Weston" type brake systems used on alternative lever hoists. This Tiger brake system is now a proven design with many thousands of hours of empirical evidence as proof of design and efficiency. This design removes the need for inefficient old style longitudinal disengagement methods of pulling the brake system apart to facilitate freewheeling. This highly efficient method of operating is not only safer but easier for the operator while measurably increasing the brake take up efficiency rate.
Tiger uses an 8 point multi start threaded pinion shaft which has also increased brake reaction times. The rotational engagement of the brake works with the direction of the load sheave creating highly efficient braking ratios – up to 50% measurable difference compared with longitudinal 4 point pinion threads.
These units meet and exceed all the requirements within BS EN 13157: 2004+A1:2009, ANSI/ASME B30.21, AS1418.2 and SANS 1636
DNV GL Verification tested according to NORSOK R-002
Available with slipping clutch overload protection
Range from 0.8t – 30t
Available with forged clevis adaptor components
Patented Quad Cam Pawl System
Equipped with our unique torsion brake mechanism
One piece construction pinion gear
Light load tested and certified at 2% of the rated capacity
Adaptable to use both inverted and horizontally
Operating temperature of -40°C to +50°C (-40°F to +122°F)
All major parts are heat treated and precisely machined
Finished in high quality powder coat paint offering excellent corrosion protection
Also available with stainless steel load chain or spark resistant hooks
Available with load bearing swivel hooks to meet relevant standards