Product Guidance
The guidance that comes with our products is amongst the best in the industry and covers Safety Information, Product Operation, Inspection and Maintenance, Transport, Storage, Decommissioning and Disposal, Manufacturer Testing and Verification, Product Warranty and Warnings, Technical Data, Exploded Diagrams and an Inspection Log. Relevant chain block and lever hoist manuals also include information on using our products for cross hauling, fleeting and drifting applications.
Quality Statement
Tiger Lifting is committed to providing defect free products to its customers on time and within budget and to a standard of service that fully meets our customers' needs.
We operate a Quality Management System that has gained BS EN ISO 9001:2008 certification, including aspects specific to the design, development, manufacture and distribution of material handling equipment and associated products.
We communicate throughout our organization the importance of meeting customer needs and all relevant statutory and regulatory requirements. We make the resources available to ensure that these needs are met and that all our staff are trained and aware of our philosophy of constant, logical, and sustainable improvement throughout every single aspect of our organization.
Product Support
We hold complete technical files for our products to provide full back-up and reassurance on our products' performance and to ensure that advice for our equipment is readily available. We have a wealth of technical expertise and qualified personnel as well as specialised dealers and distributors to provide competent know-how, service and full product support.
Product Documentation
Our products are provided with all relevant documentation, for example an EC Declaration of Conformity confirming the tested status of the product.
We can also supply Type 3.1 Inspection Certificates In Accordance With BS EN 10204:2004 (E) (Material certificates) if required.
Certificates of Origin attested by our Chamber of Commerce can be supplied for export orders, along with other relevant export documentation.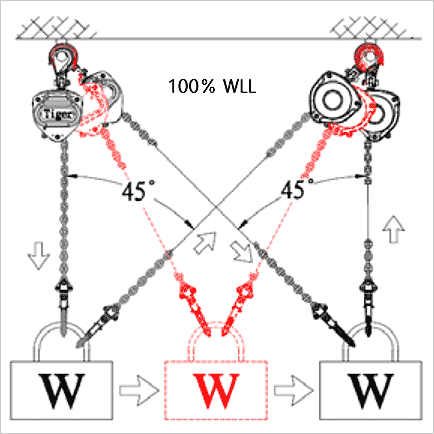 Lifting at Angles
The TCB range of chain blocks fitted with the patented protected Quad Cam Brake System has undergone a full and comprehensive testing regime that was drawn up by industry specialists and Tiger's mechanical engineers to provide evidence that these units can be safely used for "fleeting", "drifting", and "cross-hauling" applications up to 45 from the vertical without deration. Note: All such operations should be carried out in accordance with manufacturer's instructions and fully risk assessed by a competent person.