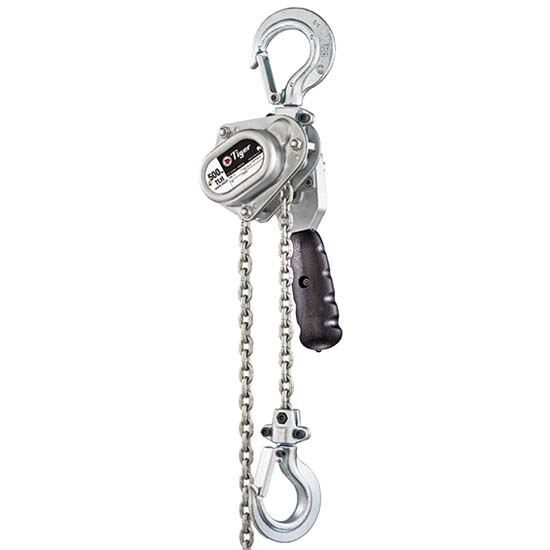 The TLH is lightweight, compact and of rugged construction with the handle, gear case and brake cover made entirely of pressed steel, producing strong resistance to impact damage. We use only the highest quality materials precisely machined throughout. The hoist's exterior is treated with a high quality corrosion resistant finish. This all ensures the TLH is the ideal hoist for long-term use with less maintenance and servicing costs.
The strong impact resistant gearbox housing, complete with close tolerance fit bearings that fully support the pinion shaft and planet gears, maintains smooth revolutions while under load. High gear ratios keep physical effort to a minimum. This provides maximum mechanical efficiency.
The user friendly heavy duty end stops make it easy for the operator to position the chain while "freewheeling" but most importantly gives complete compliance to all known standards.
These units meet and exceed all the requirements within BS EN 13157: 2004+A1:2009, ANSI/ASME B30.21, AS1418.2 and SANS 1636.
 Range from 0.25t – 0.5t
Rugged steel body construction
Lightweight and portable
360 degree handle rotation
Short stroke and low lever pulling effort
Easy single-hand "freewheeling" operation
Safe reliable twin pawl mechanical brake
Guaranteed light load protection
Heat treated alloy steel triple spur gears and pinion shaft
Heavy duty chain end stop
Operating temperature of -40°C to +50°C (-40°C to +122°F)
5' height of lift as standard but can be chained to exact requirements
Individual spares readily available
Also available with stainless steel load chain
Available with load bearing swivel hooks to meet relevant standards i.e. AS 1418.2