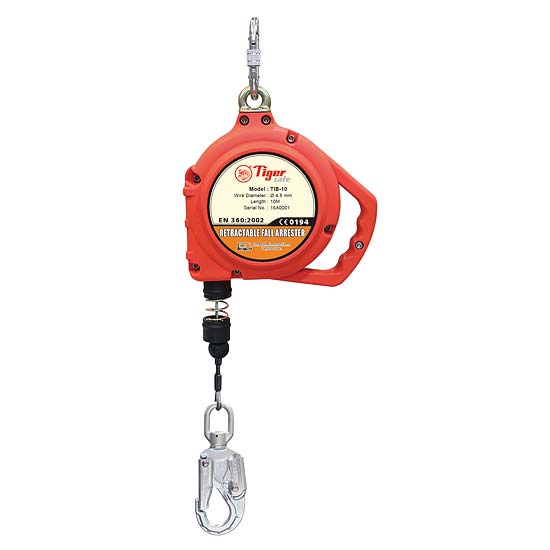 Tiger TIB Fall Arrest Retractable Lifelines / Inertia Reels are designed to reduce vertical impact force on the body caused by falling from height. They are used to provide semi-permanent fall protection. The lifeline tension allows the user to move freely around the work area.
PPE Category III Retractable Type Fall Arrestor – wire and webbing types available.
Wire type
Available with 6m, 10m, 15m, 20m, 30m (20 ft, 33ft, 49ft, 66ft, 98ft) wire rope lengths.
Lightweight, compact and durable
Triple pawl brake system with energy dissipating mechanism
Side cable exit for smooth operation and reduced cable wear
150kg (330lbs) capacity for operator and tools
Top anchor point with built-in swivel-limits lifeline twisting
Supplied with screw gate carabiner for fitting to a suitable anchor point
Top scaffold hook available as an option
Lower self-locking snap hook and swivel with built-in impact indicator for connecting directly to the safety harness
All fittings meet EN 362:2002
Buffer spring at cable exit protects block and allows for smooth operation
Fully serviceable by an approved Service Agent/Center
High strength ABS (thermoplastic) casing
Ergonomic carrying handle makes transport, set-up and storage easy and safe
Side case with metal bush for shaft housing
Minimum static strength 15kN
Easy to inspect
4.8mm galvanised wire rope
Supplied with pull down cord
Conforms to EN 360:2002 EC Notified Body Apave
Braking force: less than 6kN
Operating Temperature: -30°C to +50°C (-22°F to +122°F)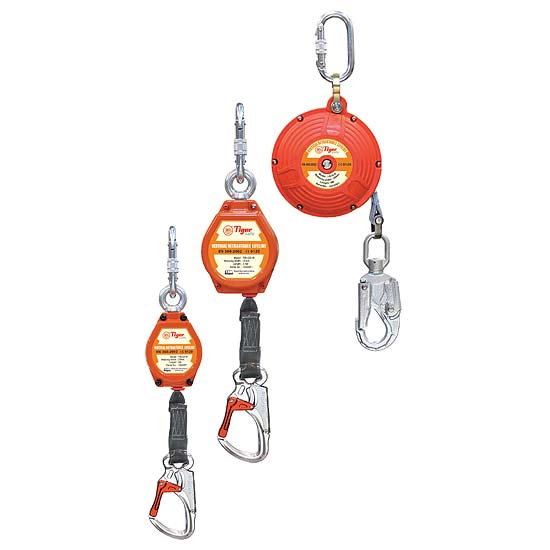 Webbing type
Lightweight, compact and durable
Ideal for use in areas where a wire rope could damage fragile items in the work area
Top anchor point with built-in swivel – limits lifeline twisting (2m and 3.5m models) (6.5ft and 11.5ft)
Supplied with screw gate carabiner for fitting to a suitable anchor point
Top scaffold hook available as an option
6m (3.2 ft) model complete with lower self-locking snap hook and swivel with built-in impact indicator
2m and 3.5m (6.5ft and 11.5ft) models with "rip stich indicator" and ultra lightweight self-locking hook
All fittings meet EN 362:2002
140kg (309 lbs) capacity
Lightweight aluminium housing for 2m and 3.5m (6.5 ft and 11.5ft) models
High Strength ABS (thermoplastic) casing for 6m (19.6ft) model
Minimum static strength 15kN
Easy to inspect
Dyneema webbing
3.5m and 6m (11.5ft and 20ft) models supplied with pull down cord
Conforms to EN 360:2002
Braking force: less than 6kN
Operating Temperature: -30°C to +50°C (-22°F to +122°F)