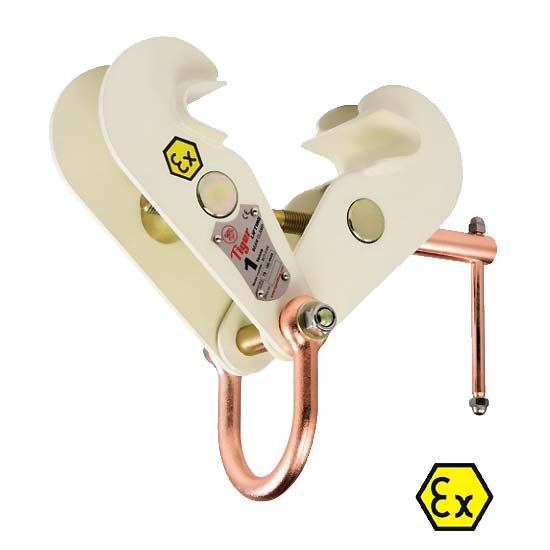 Spark Resistant Beam Clamp
Ex II 2 GD c IIC T4 IIIC T135°
In many areas of industry, plants are operated with potentially explosive atmospheres. Due to the very high risk to personnel and other assets, extremely strict guidelines and technical requirements are in place in explosive zones.
Tiger Spark Resistant products are manufactured in accordance with ATEX Directive 94/9/EC and the Machinery Directive 2006/42/EC.
Our products are lightweight and durable with a proven track record.
Certification:
Under the ATEX Directive 94/9/EC, equipment for areas with an explosion hazard are assigned to groups, categories and temperature classes. Our products are assigned as follows: Ex II 2 GD c IIC T4 IIIC T135°C
Suitable for gas and dust hazardous areas: Zone 1 & 2 (gas) and Zone 21 & 22 (dust).
Copper plated suspension shackle and adjusting bar
Special corrosion protected coated body
Optional beam locking device